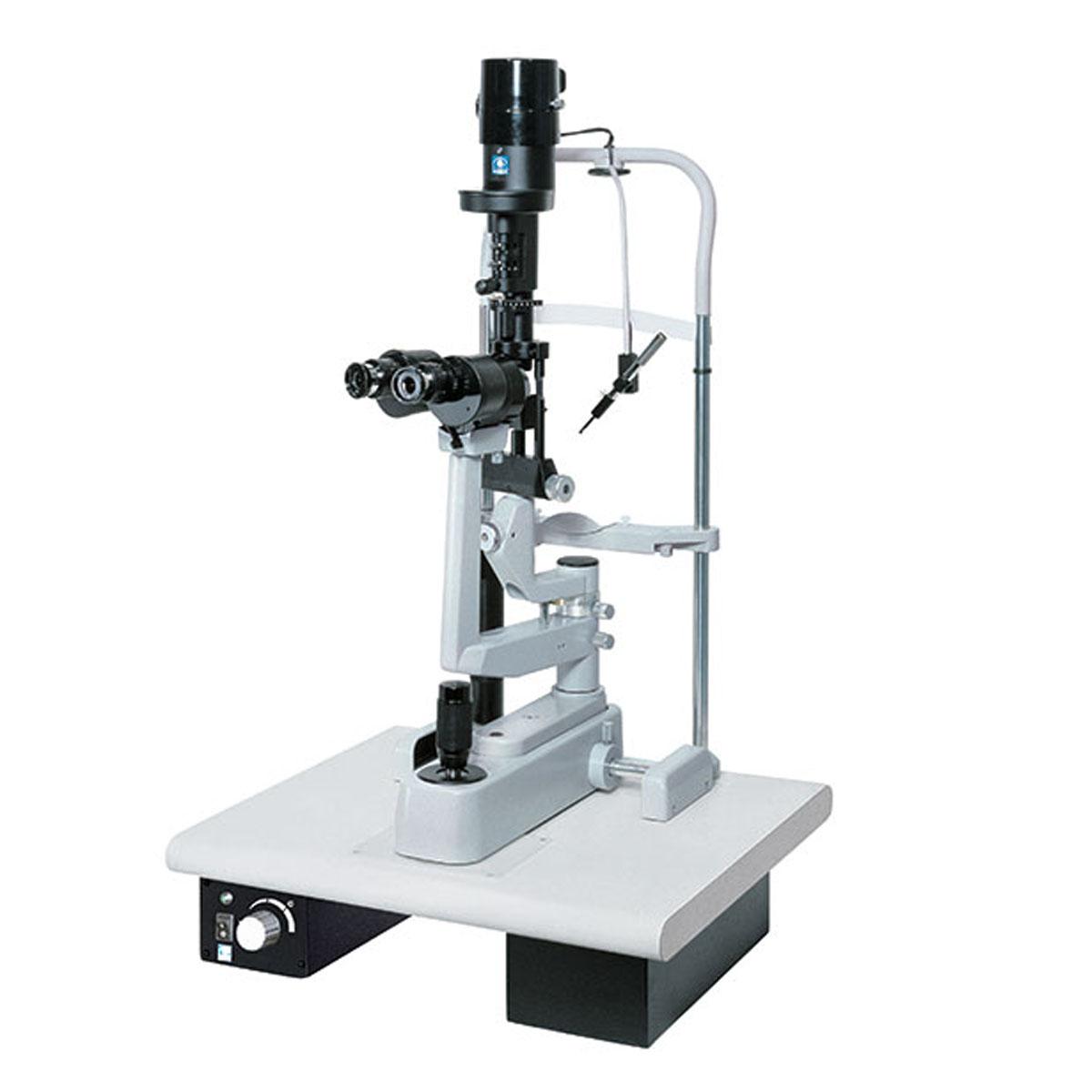 The slit lamp SL-250 is used to examine the eye and the different parts of it using a top LED lighting (Haag-Streit type) and a magnification optical system.
Haag-Streit type tungsten lighting
Greenough optics bio microscope with convergent optical system
2 magnifications up to 16x
Ametropia compensation +/- 8D
Inter-pupillary adjustment from 55 to 92 mm
Slit width from 0 to 8 mm
Slit height from 1 to 8 mm
Tilting light arm from 5° to 20°
Slit rotation +/- 90°
Filters included: blue, anerythristic, heat-proof
Adjustable chinrest up to 50 mm
Observation tool
The SL-250 is a Haag-Streit type tilting tungsten-light slit lamp (from the top), designed to observe the eye and its appendices (eyelids and eye contour), from the anterior segment (cornea, anterior chamber and crystalline) to the posterior segment (vitreous and retina), accessible using special magnifying glasses.
This bio microscope is equipped with a convergent binocular Greenough optical system to perform an adapted observation of the eye. The light arm can tilt up to 20° to better highlight the structures.
La SL-250 dispose de 2 grossissements différents (10x, 16x).
The slit lamp proposes different direct-access filters, useful to perform different types of analysis: blue filter to observe the cornea, anerythristic filter to view the vessels.
These mentions are conforms to the French regulation and may vary depending on circumstances in each country.
Focus adjusting focus
Protective cover
Protective sheet for chinrest
Protective plate
COVID Protective plate
Set for Hruby lens (optional)
Fuses
Protective sheet for chinrest
Fuses
PRODUCTS YOU MAY ALSO BE INTERESTED IN
Do you require more information?
You have a project? You want a quotation? You have questions about our products?
Feel free to ask your technical sales representative.
NIDEK develops its top-of-the-range products to improve visual health through an approach based on strict criteria: safety, reliability, durability, continuous quality controls and certifications.
Technologies and
innovations
NIDEK meets technical challenges by keeping constantly informed of the innovations of eye imaging systems, using the expertise of professionals and the progresses of research.
NIDEK commits itself to providing services to its customers, from the installation of an activity to the authorised training of teams, and to offering long-time measurable guarantees.