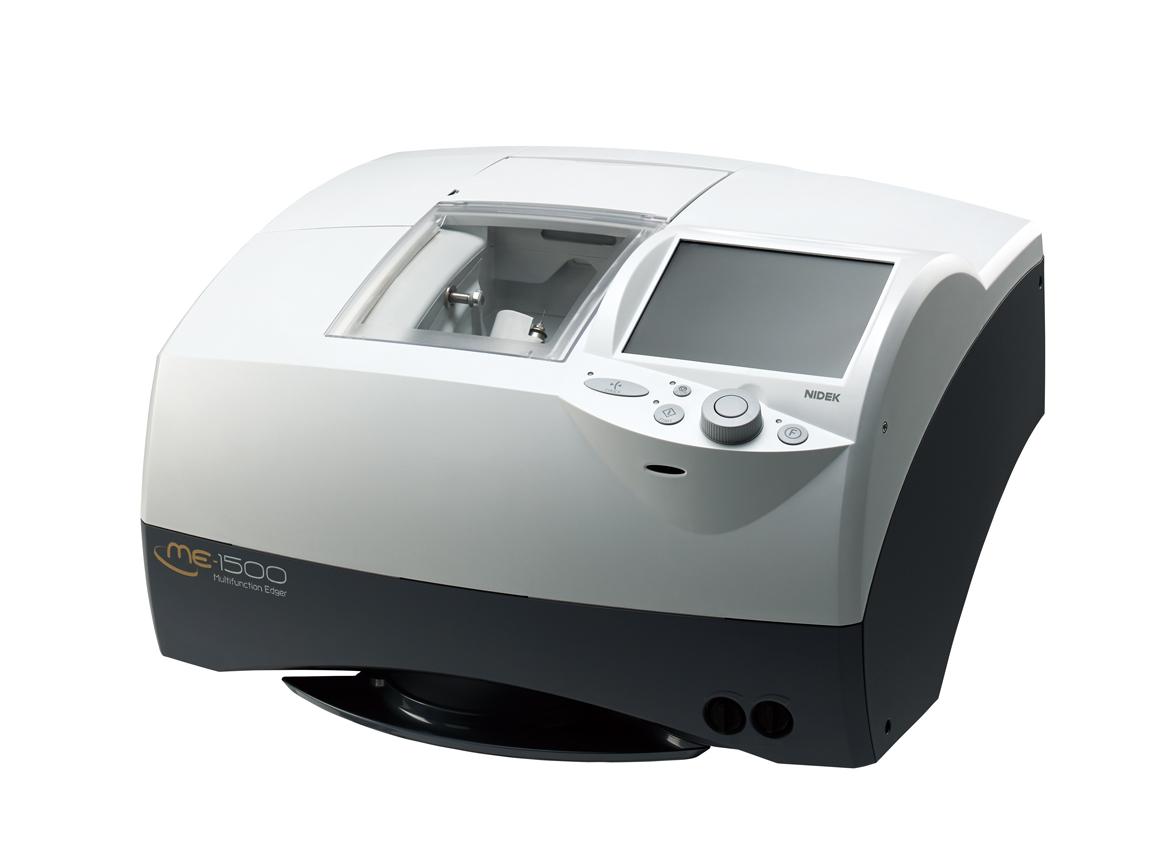 The ME-1500 multifunction edger results from the excellence of NIDEK R&D and from 30 years of experience in the field of glass edging. Indeed, the ME-1500 edger is the true flagship of the NIDEK range. Its level of finishing is unrivalled.
Summary

Description

Accessories

Cleaning

Documentation
New roughing edger to perform edging 25% quicker than the previous model.

 

Upper finishing level
The bevel profiles can be totally customised and adjusted, independently, on front and back faces and over the width.
5-axis mobile 3D drilling, creasing and cutting module
Polishing of counter-bevels and facets

 

Special wheels and cycles for strong-base glasses so that they can be perfectly supported without deforming the spectacles.
All materials: mineral, organic materials, high index, polycarbonate and Trivex
The ME-1500 edger is perfectly designed and can be customised so that the glass perfectly fits the frame. It finishing level is unrivalled. Thanks to its new set of wheels, combined with a last generation calculator, the ME-1500 offers a reduction of 25% of edging cycles. The productivity gain streamlines the workshop workflow while ensuring a premium quality. 
Thanks to its drilling and 3D cutting module and its exclusive polished-facet function, this edger can produce unique drilled spectacles. The ME-1500 can produce exclusive and tailor-made models for the customers of the shop: this is a true competitive advantage.
Thanks to its train of wheels, this edger can perform any bevel profile, such as bevels strong-base glasses, Steps and partial Steps bevels, mini-bevels or totally tailor-made bevel profiles. Setting the heights of the front and back bevels and the bevel width is completely independent. So the number of bevels profiles that can be performed is infinite. Steps bevels and partial Steps bevel features are particularly interesting, especially in the field of sport glasses. The optician can trim the glasses to top-of-the-range and very technical frames, thus reinforcing the image of skilled and professional craftsman in connection to the job.
Depending on the need of the shop, the ME-1500 comes standard with:
–    ME-1500 and ICE-1500 to perform a complete automation,
–    ME-1500, ICE-1 et LT-980 
Thanks to the ME-1500 edger, you can improve both productivity and technicality to perform any type of assembly.
Malgré ses multiples fonctions, l'appareil pèse moins de 52 kg et consomme un maximum de 1,5 kVA, ce qui le rend à la fois écologique et économe en énergie.
Stylus – Reference DC0099
ME suction cup breaker

 

Drain adapter

 

Nano kit (optional) – DLX0520
Adhesive 100 pieces – Reference OPA0015
High-curve red pad – Reference BCO0042
High-curve green pad – Reference BCO0043
Red Flex suction cup – Reference BCO0036
Green Flex suction cup – Reference BCO0037
ø1.0 mm milling tools – Reference DME0007
ø0.8 mm milling tools – Reference DME0001
No cleaning instruction for this product
PRODUCTS YOU MAY ALSO BE INTERESTED IN
Do you require more information?
You have a project? You want a quotation? You have questions about our products?
Feel free to ask your technical sales representative.
NIDEK develops its top-of-the-range products to improve visual health through an approach based on strict criteria: safety, reliability, durability, continuous quality controls and certifications.
Technologies and
innovations
NIDEK meets technical challenges by keeping constantly informed of the innovations of eye imaging systems, using the expertise of professionals and the progresses of research.
NIDEK commits itself to providing services to its customers, from the installation of an activity to the authorised training of teams, and to offering long-time measurable guarantees.