En France, NIDEK SA est le partenaire des ophtalmologistes depuis 1988, et propose des solutions d'avant-garde, aptes à faire évoluer les pratiques et méthodes de travail des professionnels de la vision.
Backed by its solid experience in refraction, NIDEK SA is presenting RT-Connect software, its latest innovative and unique Telerefraction solution. Now you can control subjective refraction remotely.
Le logiciel RT-Connect combine le pilotage à distance du réfracteur automatique (modèles NIDEK RT6100 et RT-5100) mais aussi des unités de consultation connectées NIDEK, les seules unités du marché à pouvoir réaliser cette performance (modèles Affinity RT, OT-6400 et Synetic), L'opérateur et le patient communiquent à distance grâce à des systèmes de vidéo-conférence.
Since 1993, NIDEK SA has been designing, manufacturing and distributing consultation units bearing the "Origine France Garantie" label.
Avec le RT-Connect, l'opérateur distant peut ainsi piloter les mouvements de montée/descente du siège et d'entrée/sortie du réfracteur devant les yeux du patient.
Plus, for near vision, the operator can lower the test rod and tilt the refractor for a more natural examination position.
L'utilisation du logiciel RT-Connect est destinée à des professionnels de santé (ophtalmologistes, orthoptistes, opticiens/optométristes) habilités à la conduite d'un examen de la réfraction subjective, dans le but d'établir et/ou vérifier une prescription visuelle.
The innovative RT-Connect Telerefraction solution is the qualitative step that effectively complements task assignment and opens up new perspectives in improving patient care.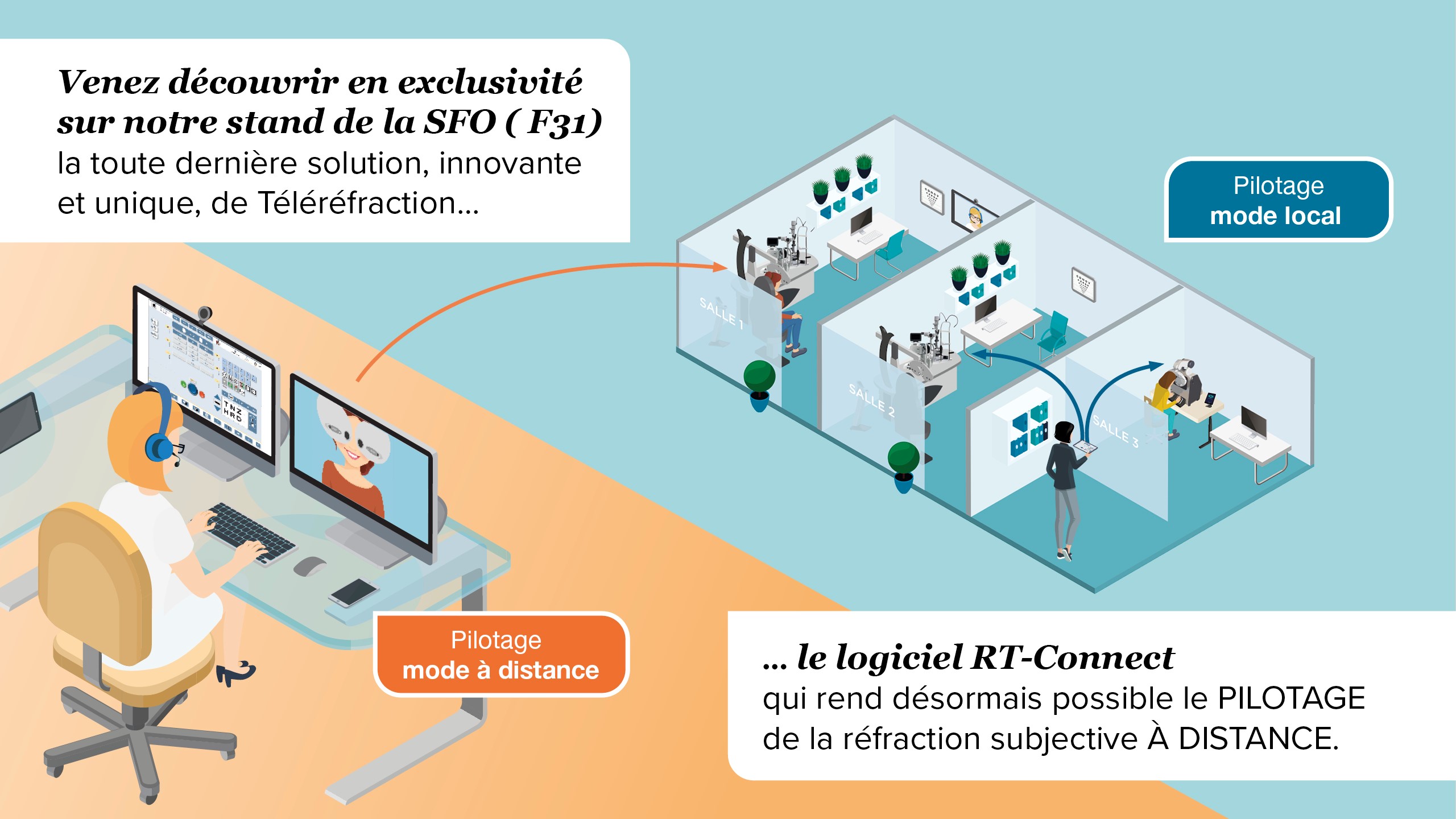 * Available early 2022